The Canon EOS 5D Mark II was quite possibly Canon's most highly anticipated Digital SLR ever, and the scramble to get in a preorder line insured that very few 5D IIs would be found in stock any time near their first availability date in early December 2008.
The original Canon EOS 5D was Canon's first non-1-Series full frame body. The 5D was affordable, was relatively small and light, and three years since it was introduced, still delivers image quality that rivals or surpasses many current (Jan 2009) DSLR models. It was a huge success in the industry.
Prior to at least the last three major pre-5D II Canon DSLR announcements (typically two per year), rumors were flying about the 5D's anticipated replacement. As each announcement passed, I was even more sure the next one would include a 5D replacement - I bought a 5D a year prior to the 5D II's announcement to be ready to make direct comparisons. And finally, the Canon EOS 5D Mark II has arrived.
And Canon has not let our anticipation down. From my perspective, the 5D II's big news is the increased resolution - matching the 1Ds III's 21.1 megapixel number.
In a Canon EOS 5D II vs. 1Ds Mark III Comparison (use the ISO12233 tool's mouseover feature), we see that these two bodies have identical resolution and sharpness - both excellent. The 5D II image appears slightly larger in this comparison, but this is due to the rear LCD showing 100% coverage compared to the 1Ds III's slightly clipped LCD image review. The 1Ds III has a 16 pixel horizontal resolution advantage, but does not show about 35 left and right edge pixels on the LCD when reviewing the image. Thus, the 1Ds III image gets framed slightly wider which makes the details in the image slightly smaller. So, in real life, there is no discernable difference.
I have had the privilege of using a pair of 1Ds Mark III bodies since they became available and can tell you that the level of detail present in a sharp 21.1 mp image is simply awesome. The ability to crop multiple images out of one is just one advantage that comes with this resolution. A 24x36" 21.1 mp print looks amazing. And, as you'll see below, the 5D II does not give anything up to the 1Ds III in pixel level quality. The big story in this comparison is that I paid $8,000 for my first 1Ds III - you can buy nearly 3 EOS 5D IIs for the same price - and each will deliver image quality that is similar.
Following are two extensive 100% crop comparisons between the 5D II and several other Canon EOS camera bodies. If you have read any of the site's other recent Canon EOS DSLR camera reviews, you will recognize the following color block test that clearly shows and compares sensor noise.
Click on the color block image below to view the image quality comparisons. This comparison was previously featured on this page, but has been moved to its own page to avoid (especially for mobile users) the large file download required.
If you read the image quality discussion on that page, you can skip down to the file size table.
Noise is a very hard characteristic to compare and to put a number on. It has size, shape, quantity, brightness, color ... and noise reduction can be done at any point in the image processing pipeline. Applying noise reduction reduces the amount of noise in an image - usually at the cost of image sharpness/details. As I've said before, my personal preference is for the camera to allow me to choose the amount of noise reduction applied during post processing of RAW images. I usually opt for no NR until ISO 1600 or so and then select a low NR setting until the highest ISO settings are reached.
I've spent way too many hours looking at these comparisons, but here are some of my observations.
Since I've already made comparisons to the 1Ds Mark III, I'll continue comparing the 5D II image quality against this body. I've already established that these two bodies have similar resolution and sharpness - at ISO 100. In the color chart comparison, the 5D II shows a small advantage over the 1Ds III in the noise category. In the fabric example (from same shots as the color chart), ISO 400 and 800 appear identical between these two bodies. At ISO 1600 and 3200, the 5D II samples appear sharper - but also appear noisier. A small amount of noise reduction added to the 5D II images would probably equalize this difference. Obvious in this comparison are the three additional stops of high ISO settings available in the 5D II. For my taste, the last two ISO settings (12800 and 25600) are for emergency use only. ISO 6400? I'll avoid it, but it is usable - especially if the resulting image is downsized.
Comparing two cameras with different resolutions is not easy. And there are many ways to make the comparison. Thus, I have provided samples from the native resolution of the Canon EOS 5D and the Canon EOS 5D Mark II as well as samples from both resized to the other body's resolution. Even the method of resizing and the amount of sharpening applied can affect the results. So, in this case, I simply used Canon's standard - Digital Photo Pro - for creating these samples.
For my eyes, the 5D II delivers obviously more resolution and/or less noise. At their native resolutions, noise results from both cameras are very similar with the 5D having slightly less noise at ISO 3200. The 5D II shows much more detail in the fabric. Up-size the 5D images to the 5D II dimensions - noise characteristics are enlarged and sharpness suffers. Detail is not magically created by this process. Down-size the 5D II images to the 5D dimensions and the comparison is closer. The biggest 5D II advantage in this comparison is lower noise levels. Thus, even if the 12.8 mp images from the 5D are large enough for your purposes, the 5D II is still going to deliver better image quality at this final image size - especially at high ISO settings. I think 5D owners will be especially happy with the increased 5D II resolution. I'll add that in-camera high ISO noise reductions can now be applied to 5D II JPG images and of course RAW images can be tweaked as desired during post processing.
The comparison samples clearly show the 5D II as a significant upgrade in image quality from the 50D (the advantage is not lost in the price of course). The 5D II's images are noticeably sharper and show more detail. The 5D II has noticeably lower noise levels - and the 50D's ISO 12800 makes the 5D II's ISO 12800 look good.
As made obvious by the above comparisons, the 5D Mark II includes two sRAW (small RAW) formats. The primary reason to use these is to get reduced file size while retaining RAW post-processing options. The original, moderately detailed RAW images for the above samples vary greatly in size among camera bodies and the 5D benefits in this regard in that it is not storing 14-bit data (a 5D image quality disadvantage).
Memory is cheap (watch the Canon News page for deals) - unless you need the small sRaw1 and sRAW2 file sizes for fast transmission speeds, buy lots of capacity to insure that the size of these files is not an issue.
There are a lot of new features in the 5D II, but the "Black Dots" phenomenon one of the less-favorable ones. As you mouse-over the ISO labels below, you will see tiny black spots appear on the right side of the blown highlights (Christmas lights) in this 100% comparison crop as the ISO levels reach 3200.
This set of over-exposed, low light (ISO 100 = 3.2 sec) samples produced the most-harsh (but still tiny) black dots I have seen to date in my testing. Typically, I don't see much sign of the black dots until very high ISO settings (around ISO 6400) and they become much stronger at the two emergency-use-only ultra-high ISO settings. There are a couple of tiny black dots making their appearance at ISO 200 is this example. As you can also see, the black dots disappeared in the "25600 w/ NR" sample which has luminance-only noise reduction set to 5. All shots above ISO 6400 require at least some noise reduction anyway. While a lot has been made of the issue - and Canon has issued a statement acknowledging the phenomenon - I perceive the dots to be a minor issue for most people. The super-high image quality delivered by the 5D II is barely touched by the black dots in my opinion.
Update: Canon has released EOS 5D Mark II Firmware v1.0.7 to address this issue. Below is an ISO 6400 before and after firmware update comparison. These are 200% crops. The issue appears to be resolved to my eyes.
Colors? Colors have been great for many Canon EOS DSLR iterations - I don't see any significant change here among these bodies. Auto exposure metering and auto white balance both *seem* to get a little better all the time (I questioned Canon regarding this, but did not receive an answer). Auto white balance under tungsten lighting is still going to need some white balance correction. And for really red lighting conditions, the 5D II now supports Kelvin white balance settings from 2000°-10,000°K - expanded from 2800°K-10,000°K.
"Although the individual pixel dimensions of the EOS 5D Mark II camera are the same as the 21.1-megapixel CMOS sensor used in the EOS-1Ds Mark III digital SLR, the new sensor incorporates an improved output amplifier and a more advanced color filter that improves light transmission while retaining excellent color reproduction. By applying the same kind of advancements in sensor design and image processing technology as the recently introduced EOS 50D camera, but at higher resolution and with larger pixels, the EOS 5D Mark II achieves the highest level of image quality of any EOS Digital SLR released to date." [Canon USA Press Release] I agree. The DIGIC IV processor-powered Canon EOS 5D Mark II delivers a significant overall image quality upgrade to all prior Canon DSLRs except the Canon EOS-1Ds Mark III - and the 5D II may be a small upgrade from this one too.
From a performance perspective, the 5D II, while not the best in all categories, is still very good.
The table above contains several figures that differentiate the 5D II from the rest of the compared Canon Digital SLR cameras. One of my biggest disappointments in the 5D II is the relatively slow shutter lag and mirror blackout time specs. These are very short amounts of time, but having grown used to the extremely fast 1-Series bodies, I find the small amount of time difference noticeable. Your current experience will affect your opinion of these specs - Rebel XT users will think the 5D II is fast. The original 5D shares these particular specs - no change there.
While the 5D II also has a slow frame rate, it is nicely improved from the 5D. Using a SanDisk Extreme III 16 GB CF Card (this is a non-UDMA CF card - high speed UDMA-compliant CF cards are supported), the 5D II set to ISO 100 (1/8000, wide open aperture and lens cap on) delivered 16 frames at rated speed and took 1 additional frame every 1.3 afterwards. At ISO 3200, frames in the burst dropped to 14 and subsequent frames were captured every 1.52 seconds. At ISO 25600, 10 frames are captured in the burst and subsequent frames are captured every 2.05 seconds. Your experience will vary due to subject matter (more detail equals larger file sizes), camera settings (including noise reduction) and card speeds, but the rated specs seem correct to me.
Here are some audio clips:
3.9 fps Burst
Single Shot
Live View AF - Mode 1
Canon EOS 5D, then 5D II, then 1Ds III and then 50D Burst Comparison
Like the 5D, the 5D II is a reasonably quiet camera and the Live View Silent AF modes are especially quiet - though not silent. The 1Ds Mark III is not hard to pick out in the series of bursts (above). It, however, has a non-Live View silent mode that the 5D II does not have.
A relatively slow frame rate, long shutter lag and long mirror blackout time combine to make the 5D II not the best choice for serious sports photography. Though the 5D II can certainly be employed for sports, the 1-Series bodies are a better choice. However, I'm getting very good autofocus results from the 5D II (another sports shooter requirement).
The AF system in the Canon EOS 5D Mark II is the same as that in the 5D (which I also found to be accurate) but now with a DIGIC IV processor driving it. This system uses 9 AF points including a cross type point (sensitive to both horizontal and vertical lines) in the center (only) that is about twice as sensitive as the other focus points. Six not-individually-selectable assist focus points are present around the center point. AF is an issue the 5D II has been criticized for by some, but I am not having problems with it. I found center focus point AI Servo performance to be very good (specifically tested using the Canon EF 300mm f/2.8 L IS USM Lens). One shot AF is delivering very consistently good results with various focus points on all lenses I've used on it including the Canon EF 85mm f/1.2 L II USM Lens at f/1.2 at head shot distance (where DOF is very shallow) using various peripheral focus points under various lighting conditions including indoor low light situations. An max aperture opening of f/5.6 or wider is required for the 5D to autofocus.
For even more precise autofocusing, the 5D II allows AF Microadjustment as we first saw in the 1D III. This is an excellent feature that lets you perfectly focus-calibrate either the camera individually or your lenses individually to the camera. If a camera or lens is significantly miscalibrated, it should be sent to Canon for adjustment, but for the rest, I suggest running the lenses through an easy focus calibration procedure (skip this section if you've seen it before).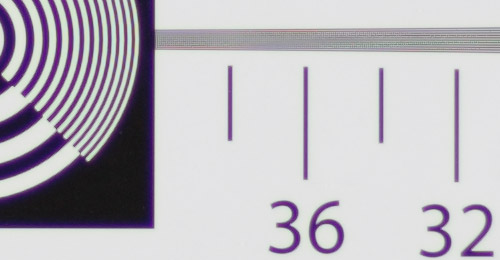 The example above shows the Canon EF 85mm f/1.2 L II USM Lens at f/1.2 being run through the focus microadjustment process in increments of 5 on a Canon 1Ds Mark III.
There are many methods to focus calibrate a lens to the camera, but they all have the same goal - find the sharpest setting for the combo. Under good light, setup a flat focus target with obvious, contrasting lines/patterns (a newspaper, poster or similar printed item will work fine). Lock your camera onto a good tripod at the distance you would be most likely to use the lens at (optimally) and aimed directly (perpendicularly) at the flat focus target. Get your exposure setting correct at the lens' widest aperture (makes evaluating the test pictures easier). I select center-point-only for my focus point and use the 2-sec self-timer drive mode with mirror lockup engaged. Then, go into the menu to C.Fn III-8 AF Microadjustment (Custom Function Menu III, function 7). Select "2:Adjust by lens". Then shoot a test shot from a -20 setting to a +20 setting using increments of 5 between each shot. Load the pics into a computer (or review at 100% on the LCD) and determine which 2 settings were sharpest at the location the focus point was placed. Now shoot the test again using the 6 settings between and including these two settings - adjust by 1 between each shot. You may want to shoot multiple test shots at each setting with the lens defocused to be ultra precise - there will be a slight variation from shot to shot. Determine which setting was optimal and make it the final setting for the lens. Repeat the focus adjustment process for the rest of your lenses if necessary.
There are a few limitations to the AF Microadjustment feature. First, a maximum of 20 lenses can be calibrated to a camera. The 5D II recognizes a lens by the model (a lens + extender is counted as a separate lens). So, if you have two Canon EF 70-200mm f/2.8 L IS Lenses that you use on the same body, you need to pick a calibration setting that is the best compromise between the two lenses. The AF Microadjustment feature does differentiate between the original, II and subsequent versions of all EF lenses. Since you can only select one calibration setting per lens, you are forced to select the focal length to calibrate to on a zoom lens (Canon suggests the longest focal length as this is the most focus-critical but you may want to select the best compromise for your use).
Along with AF Microadjustment, many, many other features seen on the DSLRs introduced in the last three years have been added to the Canon EOS 5D Mark II.
For example - a self cleaning sensor. The 5D II has a new sensor self-cleaning unit that includes a fluorine coating on the low-pass filter for better dust resistance. While 5 weeks may not be enough time to fully evaluate this feature, I am very pleased so far. The sensor arrived clean (yes, this is something to be excited about) and I have cleaned the sensor only once - and the Rocket Air Blower was all that was needed for this cleaning. I find sensor cleaning aggravating and welcome any help in reducing the need for it.
Peripheral Illumination Correction (PIC) is another new feature. We've seen it before and welcome it to the 5D II.

As you can see above, no correction results in over 3.5 stops of vignetting in the corner of this lens. Turn on the in-camera PIC and the in-camera JPG is corrected by about 2 stops in this example. RAW images receive an instruction for DPP to correct shading slightly more than the same in-camera JPG correction in this example. High ISO shots receive less correction (likely because noise is increased in the corrected areas). Of course, RAW images can be adjusted to the level of correction desired when post processing in DPP. And, the DPP RAW correction feature is not limited to the 5D II. Data from 25 Canon lenses (see the Canon EOS 5D II white paper for the complete list) is included in-camera for this function with additional definitions registerable through EOS Utility (included).
As with the 50D, the 5D II's Auto ISO feature has taken a big step forward from previous implementations - toward what I've really been looking for. The lowest ISO setting this feature will choose is now ISO 100 - down from ISO 400 - in all modes except portrait, when flash is used and - in M (Manual) mode. Auto ISO selects only ISO 400 in these modes. As I've said before, the big remaining step is to make auto ISO work in M mode which would give us "Aperture and Shutter Priority" auto exposure. I want to lock in the aperture and shutter speed and let the camera determine the ISO setting needed to correctly expose the images. In the auto ISO functional modes, the camera attempts to select a shutter speed that is handholdable for the focal length selected. Image stabilization and subject motion is not accounted for - a limitation to be aware of.
The HTP (Highlight Tone Priority) and ALO (Auto Lighting Optimizer) features are included in-camera with the 5D II (ALO has been available for RAW images in DPP).
Let's take a look at the back of the 5D II and some other EOS DSLR bodies.
Starting at the top-center is the new style Canon flash mount.
Move down slightly and you have a new, larger viewfinder. Pick up the 5D and then pick up the 5D II - the difference appears slight. Put both to your eyes are the same time (try it - one body to each eye in portrait orientation) and the difference is more obvious. The 5D II viewfinder size is squarely between the 1Ds III and the 5D viewfinders - which also matches the viewfinder field of view specs (100%, 98% and 96%). All are nicely larger than the 50D. 5D users will find the 5D II viewfinder size change nice, but not life-changing. Having more of the captured image showing is the viewfinder (98%) is a very nice change. Additional information available in the viewfinder includes the ISO setting.
Check out the print button - it now has a function that we will use: Live View (I'm speaking from my own perspective of course). Live View and all of its functionality (including 100% zoomed view focusing) is a feature that becomes more valuable to me the longer I have it available. The 5D II Live View gains all of the functionality we've seen in previous iterations (50D) including three Live View auto focus modes: "Quick Mode AF," "Live Mode AF," and "Face Detection Live Mode AF". Quick Mode focuses quickly using phase detection (dropping the mirror to do so) while Live Mode AF and Face Detection Live Mode AF use contrast detection (these modes are painfully slow). Face detection works - put a face in the center of the frame, start AF and then move the camera around - Live View will track the face it found. Actually, it can detect up to 35 faces - and since it is using contrast detection AF, it is not limited to the 9 phase-detection AF points. Your faces will need to be relatively still for focus to keep up with them - don't plan on shooting sports in this mode. Optional Live View grid and histogram displays aid in composition and exposure.
As with all of Canon's Live View capable cameras, complete control of the 5D II is available from a USB-attached computer. Or, add the new dedicated WFT-E4A Wireless File Transmitter (802.11b/g Wi-Fi connectivity via FTP, PTP or HTTP) and take full control of the 5D II from 492' away from your computer - or wireless access point (which allows this range to be extended significantly). A wired Ethernet connection (up to 1,000') is supported as are USB hard drives and GPS units.
The 5D II is one of the best studio and landscape cameras available - and Live View complements these photography pursuits very well.
The version of the tabbed, graphical menu system seen first in the Canon 50D comes along with the 5D II's higher resolution LCD. Compared to the 5D, I find this menu system much easier to use. The "My Menu" feature that I use all the time was not available in the 5D's single tab.
The Jump button is gone, the info button (displays lots of camera settings on the rear LCD) moved down one position and the "Picture Style" button has been added.
Notice that all of the left-side buttons have been moved slightly to the left? And the delete button has been moved in line with these? The extra space was needed by the new 3" high resolution LCD we first saw on the 50D. The quality of the images shown on the LCD is very high - very noticeably better than on the 5D. The new LCD is especially appreciated in Live View.
I've been complaining about the histogram not being visible in bright sunlight of some of Canon's recent LCDs. The 5D II's new LCD addresses this problem. See the small round sensor below the LCD? It determines the brightness of the environment and adjusts the LCD brightness for the conditions. The LCD dims in low light and gets brighter in bright light. It is easy to test - in bright light, just cover the sensor with your thumb and the display gets dim. This seems like a small feature, but it is really helpful to me. You can still adjust the brightness manually via the menu if you prefer.
Moving to the right is the new power switch. It is similar to the 50D and 40D, but much easier to grasp (especially with gloves on) than the 5D and 30D versions.
As we've seen on many of Canon's recently released bodies, an additional button now resides to the left of the [*] button - "AF ON". Many photographers prefer to engage AF with their thumbs - independently of exposure selection and shutter release. The 5D II provides a new button dedicated to this task.
The last change on the back of the 5D II I'll mention are those four tiny holes at the top-right of the LCD (and three additional ones on the front). But I'll wait til later to talk about them.
Moving to the top:
Once again the hot shoe change is obvious. The lamp button switched sides (I have not yet grown to like this change) and some of the functions traded buttons (matching the 50D).
The other big change is on the dial. The 5D II has 3 custom modes (up from 1). You setup the camera, register the settings and the camera will automatically change to the registered settings when the particular C mode is selected - or when the camera is turned on or awakened when in one of the C modes.
The other new mode is "CA" (Creative Auto). Creative Auto mode allows the photographer to adjust the shot settings using easily understood words instead of using f/settings and 1/xxx time value shutter speeds. These settings are displayed on the rear LCD while adjustments are being made. A wide range of control is available. Learning the controls available to you is a great first step in gaining control of your images.
A total of 10 modes are available. Many of the basic preset mode settings found on the xxD and Rebel bodies are missing, but the fully-automatic point and shoot mode green square mode is available. All of the more advanced Creative Zone auto and manual control settings are included. I always recommend you learn to use these advanced modes if you are serious about your photography - the concepts are not hard. To again answer a FAQ - I use M (Manual) and Av (Aperture Priority) modes 99.5% of the time and Tv (Time value/Shutter Priority) the other .5%. My metering mode is usually Evaluative.
I don't show the 5D II front in a comparison as there is not a lot of difference to show between it and the 5D. The one notable difference is the IR sensor that makes the 5D II compatible with the inexpensive Canon RC-1 and RC-5 Wireless Remotes. These remotes function only in the 2 and 10-second self-timer modes and only from the front of the camera, but they are very small and very useful. The N3 remotes (such as the Canon RS-80N3 Remote Switch and the Canon Timer Remote Controller TC-80N3) remain compatible.
The size, weight, grip, feel, build quality ... of the Canon EOS 5D Mark II remain nearly identical to the original 5D. And this is a good thing. It even looks good.
Under the covers finds a rugged magnesium alloy frame with some weather sealing. How much sealing? Well, here is the statement from the 5D II White Paper: "... the weather and dust seals have been improved around the battery compartments and memory card doors, and increased precision in the alignment of the magnesium alloy external cover seams and in the optimal design of parts and structures contribute to the cameras' dust and water resistance. Internal gaskets and sealing materials are used extensively at the cameras' buttons, tripod sockets, and surrounding the LCDs. As a result, the EOS 5D Mark II now has dust and water resistance that is almost equal to that of the EOS-1N—Canon's top-of-the-line professional 35mm SLR for most of the 1990's." OK, so maybe that doesn't completely clear up the question, but ... there is at least partial sealing. No built-in flash eliminates sealing concerns of this feature.
The bad news on the battery is that your 5D spares will not work in the 5D II. The good news is that the new 1800mAh lithium-ion Canon LP-E6 Battery is chipped and is identifiable to the camera by serial number. The camera tracks the percent usage (1% increments), the shutter count and can provide last usage date information for up to six registered batteries. Six levels of charge display on the top LCD. Canon rates the LP-E6 + 5D II combination at 850 possible shots at 73°F (23°C). I do not yet have a spare LP-E6 and therefore have not been willing to fully drain a battery to fully test this, but my estimate is that real life reflects this rating. LP-E6 batteries charge in about 2.5 hours in the relatively compact LC-E6 direct-wall-pluggable charger.
Want more battery life? Add a BG-E6 Battery Grip as shown above. It accepts two LP-E6 batteries (or 6 AA batteries in the included tray). Better yet, it provides a complete vertical grip with the appropriate buttons. The BG-E6 adds a lot to the size and weight of the 5D II, but it is easily installed or removed for the best of both worlds. The BG-E6 works great, but the vertical grip is slightly bulky and there is a little flex where the grip and camera meet. Keep in mind that I am most used to the 1-Series integrated grip.
| | |
| --- | --- |
| Canon EOS Rebel SL1 / 100D | n/a |
| Canon EOS Rebel T5i / 700D | n/a |
| Canon EOS Rebel T4i / 650D | n/a |
| Canon EOS Rebel T3i / 600D | n/a |
| Canon EOS Rebel T2i / 550D | n/a |
| Canon EOS Rebel T1i / 500D | 100,000 |
| Canon EOS Rebel T5 / 1200D | n/a |
| Canon EOS Rebel T3 / 1100D | n/a |
| Canon EOS Rebel XSi / 450D | 100,000 |
| Canon EOS Rebel XS / 1000D | 100,000 |
| Canon EOS Rebel XTi / 400D | 50,000 |
| Canon EOS Rebel XT / 350D | 50,000 |
| Canon EOS 70D | 100,000 |
| Canon EOS 60D | 100,000 |
| Canon EOS 50D | 100,000 |
| Canon EOS 40D | 100,000 |
| Canon EOS 30D | 100,000 |
| Canon EOS 20D | 50,000 |
| Canon EOS 7D | 150,000 |
| Canon EOS 6D | 100,000 |
| Canon EOS 5D Mark III | 150,000 |
| Canon EOS 5D Mark II | 150,000 |
| Canon EOS 5D | 100,000 |
| Canon EOS-1D X | 400,000 |
| Canon EOS-1D Mark IV | 300,000 |
| Canon EOS-1D Mark III | 300,000 |
| Canon EOS-1D Mark II N | 200,000 |
| Canon EOS-1Ds Mark III | 300,000 |
| Canon EOS-1Ds Mark II | 200,000 |
The 5D II received a 50% increase in shutter life rating over the 5D - it should be good for over 4,000 rolls of film. :) The 1-Series bodies remain the endurance leaders in this regard with the current models being rated at twice the 5D II's rating. Shutters are replaceable.
The Canon EOS 5D Mark II's major headline-grabbing feature not seen before on a Canon DSLR is video. The 5D II is a Video DSLR. While video itself is not a huge surprise (point and shoot cams have had it for a long time), Canon has given us very high end image quality in 1080p 16:9 HD format. Add to that the huge range of lenses available for this camera (including Fisheye, Macro, Tilt-Shift, Ultra-Wide Angle, Ultra-Wide Aperture and Super-Telephoto lenses) and the low-light capabilities/DOF control of the large full frame sensor and now independent filmmakers start paying attention. Canon Explorer of Light Vincent Laforet (photographer) created a short video (linked below) shot in one weekend with a low budget using a pre-production 5D II. The short video instantly became famous and brought Vincent fame and a lot of business. This video was partially responsible for the huge demand the 5D II was introduced into.
Just because your DSLR has world class video capabilities does not make you a world class videographer. There is a lot to learn for those of us new to video capture and production. The cross-over is not too hard for a photographer that knows what they are doing and is able to learn new skills quickly. But it is definitely different.
One new consideration is sound. While the 5D Mark II includes a functional internal mic (3 small holes on front of camera), it is not great and is not well regarded (possibly regarded even lower than it should be). It records all wind and camera noises very well - including image stabilizer noise (at least from both the 24-105 f/4 L IS USM Lens and the 70-200 f/2.8 L IS USM Lens). An external mic attached to the 3.5mm stereo mini jack makes a nice upgrade. The 9v battery-powered Rode Stereo Video Mic (and the included "Dead Kitten WindMuff") is working nicely for me. It is not large (hot shoe mounted) and does not pick up image stabilizer noise - it is a nice upgrade for on-camera sound quality. Sound levels and wind filter settings are adjusted automatically by the camera. "Sound is recorded as linear PCM without compression in mono (when recorded by monaural microphone located under camera nameplate) or in stereo (when using optional external stereo microphone)." [Canon] Sound can of course be added in the editing phase.
I mentioned image stabilization - stabilizing the camera is another very important consideration for reasonable quality video work - it helps prevent the audience from becoming motion sick. A fast shutter speed is not going to save you on this one (as it can with still photography). Ultra wide angle lenses work reasonably well handheld, but by 24mm, I'm not as pleased with my results. Add IS and the results are much better right up into short-to-medium telephoto ranges. A solid tripod is what delivers the best results (and you will likely want a fluid video head if you are panning during the shot). The market abounds with alternative video stabilizing gear such as SteadyCam ("brace yourself" for this price), GlideCam and Bogen's FigRig. Even grasping a folded tripod attached to the camera improves steadiness and makes panning smoother. Price ranges for this equipment ranges from affordable to extremely expensive.
When ready to start recording a video, Live View is what you use. The selected Picture Style parameters are what is used for the video (black and white video recording is available). The exposure level is automatically determined using a Center-weighted average metering algorithm and can be adjusted using the Rear Control Dial. To hold an exposure during a pan, press the "*" button.
Aperture, shutter speed and ISO settings for video recording are all automatically determined (Program AE only). While this makes life easy, many of us like to have full control over these settings. I want to be able to force a Canon EF 85mm f/1.2 L II USM Lens to a wide open f/1.2 aperture setting to create a completely blurred background. Workarounds are available - using ND filters to reduce light and force the lens to open wider is one example. Auto-only seems like a big shortcoming to me - this is definitely a feature left on the table for the 5D Mark III. MAJOR UPDATE: Canon has announced a EOS 5D Mark II firmware upgrade to provide manual video exposure control.
Pressing the set button starts and stops the video - and usually creates some movement you will want to edit out. A semi-transparent mask shows the recorded framing when shooting video - and 16:9 is much different (wider) than the normal 3:2 ratio we shoot still images at.
Contrast mode AF (with or without Face Detection) will work in video mode, but it is not recommended (even by Canon). Any AF noise will be recorded by the internal mic, any focus hunting will ruin the footage and this AF method is slow. I find manual focusing to be much easier than I expected - especially when pre-focusing using 10x Live View. If you are tracking a subject, life becomes more difficult - keeping the camera still while adjusting focus is not easy.
Still photos can be captured while shooting a video. The video will record the still image for about 1 second while the full-resolution image is captured. Sound recording is suspending during this process.
Using an adequately fast CompactFlash card (the SanDisk Extreme III 16 GB CF Cards work fine), up to 4GB or 12 minutes of recording time is available at 1920x1080 (24 minutes at 640x480). I've heard some complaints about this limit and it may indeed limit some uses for the 5D Mark II video capability, but there aren't many scenes I would like to look at for longer than this. A fully charged battery is good for about 90 minutes of video recording.
Update: The video capabilities of the 5D II have been updated multiple times through firmware updates. For example, here is the Firmware Update 2.0.3 Press Release. This amazing camera continues to get even better.
So you have successfully recorded some amazing footage. What now? Play it back to see what you've captured of course. Full playback is available on the 5D II's LCD (including sound from the rear speaker - the 4 small holes referred to above) - or on an HD TV using the included HDMI port. The Canon EOS 5D Mark II's video recording format is MOV using MPEG-4 compression (H.264). Thus, any software compatible with this format will work - including Apple's QuickTime.
On a laptop? The huge 5D II video files do not play smoothly in Apple QuickTime on my Dell XPS M1330 laptop (Vista Ultimate, Core 2 Duo T9300 2.5GHz, 800Mhz, 6M L2 Cache, 4GB, DDR2, 667MHz, 128MB NVIDIA GeForce 8400M GS, 320GB 7200RPM Hard Drive).
My Dell XPS 730 (Vista Ultimate 64-bit, Intel Core2 QuadCore processor, Q9550, 2.83GHz, 1333FSB, 12MB cache, 4GB DDR3 SDRAM at 1067MHz, nVidia GeForce GTX 280 1024MB, Raid 0 with Dual 750GB Hard Drives) plays the .MOV files very nicely in QuickTime.
These are just some data points for you as there are a huge number of computer and video software app combinations available. Video editing software is probably going to be high on your purchase list if bringing a 5D II home.
Verticals? As natural as taking them feels, they just do not look good in HD video.
I doubt the 5D II is going to replace the family video camera in most households, but its video capability is definitely appealing in many other situations. Why not extend your professional service to include video? You don't even need to take another camera with you. And with its low light capabilities, the 5D II likely will not require a rental truck full of hot lights (and the setup crew that accompanies them) to go with you. Why not extend your stock photo sales with some stock video? It doesn't take much longer to capture a video clip while you are shooting stills. Is the specific frame captured more important than the resolution? A frame capture from a 30 fps video may be good enough for low-res needs.
To some, the video 5D II's feature alone is going to be worth more than the price of the camera.
Enough about video.
The 5D II makes the DSLR image quality only seen before in the Canon EOS-1DS Mark III affordable. But, at this dramatically lower price, what is missing?
Speed. The shorter shutter lag and mirror blackout times are two of the biggest shortcomings from my perspective. I don't want to make this point seem too big - unless you are shooting in situations that require instant reaction from the camera, you can definitely live with the 5D II's performance for a lot of situations (especially with all that extra cash in your pocket). The 1-Series bodies have faster AF and more AF points (45 including 19 cross-type selectable points vs 15 with 9 selectable and 1 cross type point). The 1Ds III captures an extra frame per second (though it has a shallower buffer).
Durability. The 1-Series bodies are more sealed than the 5D II (which is more sealed than the 5D or 50D). The 1-Series bodies are more ruggedly built and have shutter ratings twice as high as the 5D II. The 1-Series bodies are built to tighter tolerances.
Features. There 25 custom functions available on the EOS 5D Mark II - this number compares well to the 21 available on the 5D but is small compared to the 57 1Ds III custom functions. The 1Ds III has 100% viewfinder at .76x magnification vs. the 5D II's 98% viewfinder at .71x magnification. The 1Ds III has slightly faster flash synch speed - 1/250 vs. 1/200. The 1Ds III has dual memory card slots. The 1Ds III has a more-solid (less flex), integrated portrait grip with a larger battery that offers significantly longer life (1700 shots vs. 850). While the 5D II LCD features a dirt and smudge resistant Fluorine coating, the additional nose-relief provided by the 1Ds III results in an LCD that stays much cleaner. The 1Ds III has 15 interchangeable focusing screens available compared to the three available for the 5D II (though the grid screen I typically use is one of them).
To its advantage, the 5D II has a nicer rear LCD, a more intelligent battery and more Live View features - including 1080p HD video and HDMI connectivity. The 5D II has slightly better image quality and has higher ISO settings available (though you will not want to use most of them except in emergency situations). The 5D II has more in-camera image control features including Peripheral Illumination Correction and Auto Lighting Optimizer (ALO). Pressing the Multi-controller (joystick) on the 5D II results in a new Quick Control Screen displayed on the LCD. The Multi-controller can then be used to navigate this display and the Main and Quick Control Dials can be used to change the basic shot settings displayed.
As Chuck Westfall said, "They're basically two different kinds of cameras that are targeted towards different market segments." Pro sports shooters are going to want 1-Series bodies. Serious amateur landscape photographers will likely go with the 5D II.
What about the original Canon EOS 5D? Is the Canon EOS 5D Mark II worth the upgrade? Much of what I discussed in this review are the new features found in the 5D II relative to the 5D. Start adding up all of these new/improved features and the original 5D begins to seem dated. The 5D is old in DSLR years, but as a testament to how good it was when released, it still delivers better image quality than many of the current DSLRs available on the market today. My personal opinion is that the 5D II is a really nice upgrade from the 5D.
There is much uncovered 5D II information remaining, but I'll refer you to the 5D II owner's manual and white paper linked below. They are free, available immediately and worth reading - yes, even the owner's manual.
When you buy a Canon DSLR, you are buying into an incredible family of lenses and other accessories. The camera body is of course the base and a lens is the other essential piece of kit.
The Canon EOS 5D Mark II is available as the body-only or in a kit version that includes the Canon EF 24-105mm f/4 L USM IS Lens. This is a great lens, is going to be the ideal general purpose lens for most people and is a good deal in the kit. I was surprised to see that there was no typical lens manual in my kit box. The 5D II PDF manual (downloadable below or from Canon - Use the PDF reader's search function to find "24-105") has some of what a typical lens manual has in it (which usually is not much).
With your body and lens selected, the only required hardware or software that is still missing is a big, fast CompactFlash Card. Everything else comes in the box including various straps, cables, software (including Digital Photo Pro), a battery and a charger. The first non-essential you will probably want is a case - and the Think Tank Photo Digital Holster 20 or the Lowepro Toploader 65 AW is a good choice (if you are not using the optional Canon BG-E6 Battery Grip). A second Canon LP-E6 Battery is nice to have.
So, what's my conclusion? As this review has taken me longer to put together than I planned, I've been asked this question many times already. The 5D II delivers excellent image quality from a solid-performing body. It is a great body for beginning photographers with big aspirations. It is a great upgrade to all owners of non-1-Series bodies - and even some 1-Series body owners are going to want one. I enthusiastically recommend the Canon EOS 5D Mark II.
My Recommended Canon EOS 5D Mark II Retailers
The Tip Jar
More Canon EOS 5D Mark II Related Information