TAMRON DEVELOPS SP AF10-24MM F/3.5-4.5 DI II LD ASPHERICAL (IF) (MODEL AB001)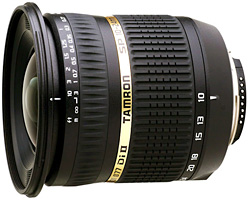 A New High Performance Zoom Lens Designed for Exclusive Use on Digital SLR Cameras Covering the Ultra Wide-Angle Range
--------------------------------------------------------------------------------
Mr. Morio Ono, President of Tamron Co., Ltd., announced the development of the SP AF10-24mm F/3.5-4.5 Di II LD Aspherical (IF) (Model AB001), a new high performance ultra wide-angle zoom lens designed exclusively for digital SLR cameras with APS-C size imagers.
Product Name: SP AF10-24mm F/3.5-4.5 Di II LD Aspherical [IF](Model AB001) for Canon, Nikon, Sony and Pentax
Date of Launch in Japan: to be determined
* "Di (Digitally-Integrated design)-II" lenses are designed for exclusive use on digital cameras with smaller-size imagers.
* This lens is not designed for use with 35mm film cameras and digital SLR cameras with image sensors larger than 24mm x 16mm.
The new SP AF10-24mm F/3.5-4.5 Di II LD Aspherical (IF) is an advanced ultra wide-angle zoom lens that is versatile and offers even higher performance and specifications than the current Tamron SP AF11-18mm F/4.5-5.6 zoom lens.
The lens covers an extended focal length range that is particularly wide for an ultra wide-angle zoom lens, while improving the aperture to F/3.5-4.5 and keeping the filter diameter to 77mm. Its lightweight and compact size makes this new wide-angle zoom very user friendly.
The lens was designed for use with digital SLR cameras and thereby employs special optical glass materials for outstanding optical performance such as large-aperture glass-molded aspherical elements and hybrid aspherical elements.
MAIN FEATURES
1. Compact Ultra Wide-angle Zoom Lens Covering a Broad Range from 10mm to 24mm
The new Tamron zoom covers a focal length range equivalent to 16-37mm* when converted to a 35mm full-size format. Its ultra-wide zoom ratio of more than 2X provides a versatile variety of angles of view, thus improving photographic creativity. *Tamron's conversion ratio is 1.55x.
2. Features an Optical Design Optimized for Digital Camera Characteristics Ensures High Optical Performance
(1) Employment of Special Optical Glass Materials Provides High Performance
The new zoom lens uses an HID glass element and a pair of LD glass elements to minimize on-axis and lateral chromatic aberrations that are the greatest hindrance to high optical quality. To further achieve outstanding optical quality, the lens uses a high quality, glass-molded aspherical element and three hybrid aspherical elements to thoroughly compensate for spherical and comatic aberrations and distortion.
* HID - High Index/High Dispersion optical glass
* LD - Low Dispersion optical glass
(2) Optical Design Optimizes the Angles of Incidences of Light Rays Reaching the Imager
The ultra wide zoom lens uses a new optical system designed to confine the changing angles of incidences of light rays reaching the imager within a certain scope over the entire image field from the center to the periphery, by considering the effects of variances due to zooming.
(3) Enhanced Peripheral Illumination
Peripheral light fall-off is minimized so that images are high quality from the center to the periphery.
(4) Outstanding Resolution
As an SP Di II class lens, it provides high optical quality in terms of resolution, contrast and flatness of image field.
(5) Internal Surface Coating Reduces Ghosting and Flare
The lens uses a newly developed multiple coating and internal surface coating, (i.e., multiple-layer coatings on cemented surfaces of plural lenses) to reduce the image degradation caused by the reflection of light rays entering from the lens front and affected by the imager.
3. Ultra Compact and Lightweight Design
The new zoom lens covers a wider focal length range with a greater zoom ratio and offers a faster maximum aperture and enhanced optical quality than the existing SP AF11-18mm zoom lens. Despite higher specifications that are likely to incur a bulky design, the new zoom lens is lightweight and compact. Tamron has successfully realized a versatile ultra wide-angle zoom lens that is lightweight and compact enough in overall length and diameter to accept a 77mm filter, the same as the existing SP AF11-18mm zoom lens.
4. Minimum Focus Distance of 0.24m throughout the Entire Zoom Range
Considering the importance of "close focusing capability" as an essential condition in wide-angle photography, Tamron has achieved a 0.24m minimum focus distance over the entire zoom range. Getting closer to the subject allows you to easily express a more creative photographic vision.
5. Flower-shaped Lens Hood
A glare-reducing flower-shaped lens hood is included as a standard accessory. The special hood provides optimum shading of superfluous light rays that enter from the rectangular frame outside the image field.
6. New External Design Conveying "High Performance, High Precision Image" on the Basis of Tamron's Conventional Lens Design
The external design is improved to enhance the uniformity and smoothness. The metallic finish of the gold band of Tamron lenses makes it stand out as a Di II lens, while the layout of alphanumerical markings is improved for better visibility. The rubber patterns of the zoom and focus rings have also been improved to compliment today's digital camera design style and to provide better handling.
SPECIFICATIONS
Model Name
AB001
Foal Length
10-24mm
Maximum Aperture
F/3.5-4.5
Angle of View
108° 44' - 60° 20' (APS-C size equivalent)
Lens Construction
12 elements in 9 groups
Minimum Focusing Distance
0.24m (Over the entire zoom range)
Maximum Mag. Ratio
1:5.1 (at f=24mm)
Filter Diameter
φ77mm
Overall Length
86.5mm (3.4")*
Maximum Diameter
φ83.2mm (3.3")*
Weight
370g (13.1oz)*
Diaphragm Blades
7 blades
Minimum Aperture
F/22
Standard Accessory
Flower-shaped Lens Hood
Compatible Mount
Canon, Nikon, Pentax, and Sony
*Values given are for Nikon cameras.